Rhone River
One of Europe's most picturesque and significant streams, the Rhone River flows from the Swiss Alps westward and southward to the Mediterranean Sea, draining the eastern quarter of France.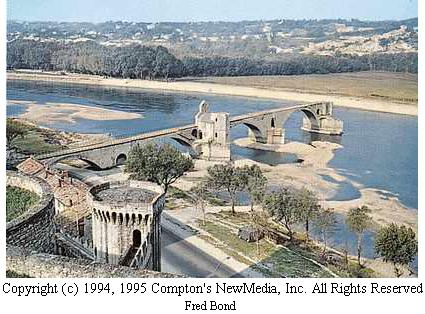 Since prehistoric times the valleys of the lower Rhone and its principal tributary, the Saone, have provided routes for the movement of people and goods between the Mediterranean Sea and northern Europe. A canal project begun in the 1980s will eventually link the Saone with the Rhine. The Saone River is also connected by canal to the Seine, the river that flows through Paris. Barges will be able to travel from the North Sea to the Mediterranean. The Rhone itself has parts that are unnavigable.
The Rhone originates in the Alps of southern Switzerland. It springs as a torrent from the foot of a great glacier nearly 6,000 feet (1,800 meters) above sea level. The glacier is located on the south flank of the Dammastock, an 11,909-foot (3,630-meter) peak. Swollen by many mountain streams, the Rhone descends rapidly through wild gorges and flows southwestward through a broad valley lying between the Bernese Alps to the north and the Pennines to the south. At Martigny the river turns abruptly to the northwest, flows through a marshy plain, and pours into Lake Geneva in western Switzerland. A mile from Lake Geneva the Arve joins the Rhone, emptying into it silt from the glaciers of the Mont Blanc Range.
As the Rhone enters France it flows swiftly through narrow gorges around the southern spur of the Jura Mountains. Its power has been harnessed at Genissiat, one of Europe's largest hydroelectric projects. The Ain flows into the Rhone from the north after the latter turns westward toward Lyon.
The huge, unruly river receives the Saone just below Lyon. Broadened and doubled in volume, it now turns and flows directly southward. Between Lyon and the Mediterranean Sea, a distance of 230 miles (370 kilometers), the steep slopes above the river are covered with rich vineyards. Along the east bank lie such historic cities as Vienne, Valence, Avignon, Tarascon, and Arles. The Isere, the Drome, and the Durance rivers bring melted snow from the lofty Dauphine Alps and join the Rhone from the east. On the west the Ardeche River is the only significant tributary of the Rhone. About 25 miles (40 kilometers) from the Mediterranean Sea, the Rhone divides into two main branches the Grand Rhone, running southeastward, and the Petit Rhone, going southwestward and discharges its waters into the sea. Its total length is a little more than 500 miles (800 kilometers). The Rhone-Marseilles Canal, leading from the Rhone at Arles to the seaport Marseilles, is one of the chief outlets for the river commerce of France.